Nobody likes layovers. In fact, in 2019, airlines started offering flights with longer layovers specifically so that the passengers would have time to do some impromptu tourism. But what if you want to go somewhere strange and cool without having to wait at two (or more) airports? Then check this list of exotic holiday destinations you can fly to from Europe!
Paris → Johannesburg
Johannesburg may not be one of the three capitals of South Africa (it's complicated), but it is one of the largest cities in the world – and it's extremely big to boot. So why not take a flight there and see what this exotic location has to offer (possibly prawn-like aliens)?
There's a lot of history behind South Africa, much of it pretty sordid. That's why you'll be able to visit Johannesburg's Apartheid Museum. Looking for something less bleak? James Hall Transport Museum endeavours to cover 400 years of transportation history in the region. Looking for something more ancient? MuseuMAfricA (yes, that's how the title is stylized) and Origins Centre Museum both cover the earliest roots of civilization. There's also a theme park in an old gold mine, musical events, public art and all sorts of other shenanigans that a metropolitan area of 9,616,000 can offer.
Stockholm → Dubai
Fun fact: Dubai has 30% more 5-star hotel rooms than 1-3 star hotel rooms. Kinda fitting for the city most known as a shopping destination for tourists. Then again, it sees nearly 20 million international visitors yearly, so there's probably something to see there. And you can do it by taking a flight from Stockholm, a city that's probably a little cheaper than Dubai!
Aside from shopping till you're dropping (there's literally a month-long shopping festival in January). The buildings on the Bur Dubai side of the Creek dividing the city show Dubai as it used to be, with Heritage Village presenting preserved buildings. I'd also visit the Dubai Museum in the Al Fahidi Fort, which is the oldest existing structure in town.
Lisbon → Maputo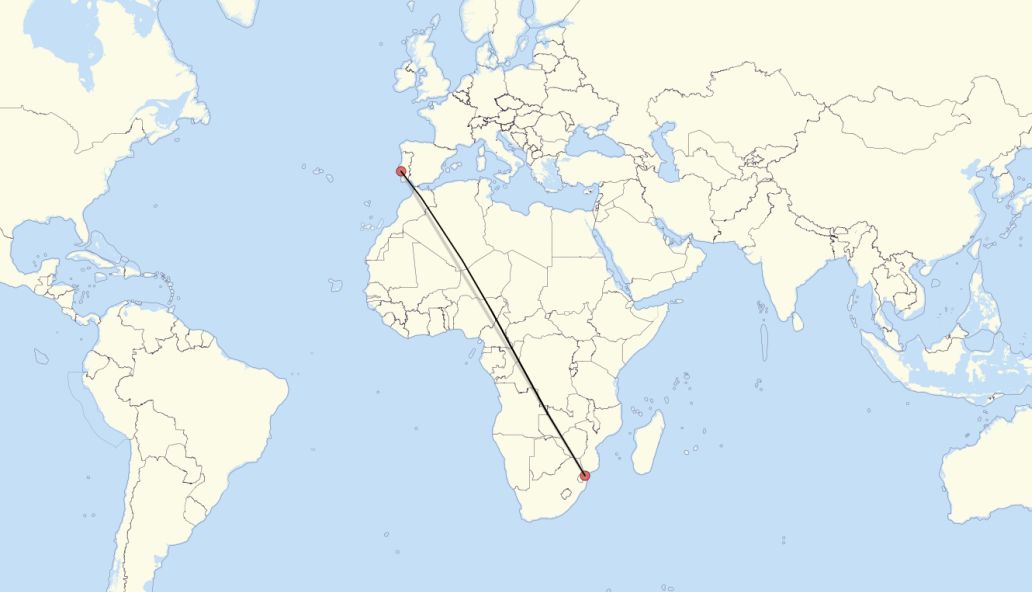 Want to visit Mozambique? Well, the only direct flight to Maputo, the capital, leaves from Lisbon. At the end of the flight, you will disembark in the largest city in the exotic country, and a place where Bantu, Portuguese and many other cultures mix and live. Previously the capital of Portuguese Mozambique, it's now the national capital.
What can you find there? You can visit many parks and places of worship that dot the city. You can also draw in the heady mix of local architecture: Portuguese colonial Neoclassical, Manueline, Art Deco, Bauhaus, and Brutalist buildings have all found a spot there. You may partake of the local music scene or even check out the movie industry. I'd probably make a beeline for Fortress of Maputo myself – after all, the city grew around it!
Frankfurt am Main → Malé
Did you know that the Maldives are the third most endangered country when it comes to climate crisis caused sea rise? Well, you can be a good sport and help them with activism… but also by visiting this exotic holiday destination, which is looking into buying land abroad with their tourism revenue.
In Malé, the capital of the country and the fifth most densely inhabited island in the world, you can visit the Male Friday Mosque, built from blocks of coral and dating back to 1658. You can also head to the lively Fish Market to see how people really get their food from the sea. Or you can enjoy the typical tourist activities of diving and submarine tours (there's really a lot of seas out there).
London → Nassau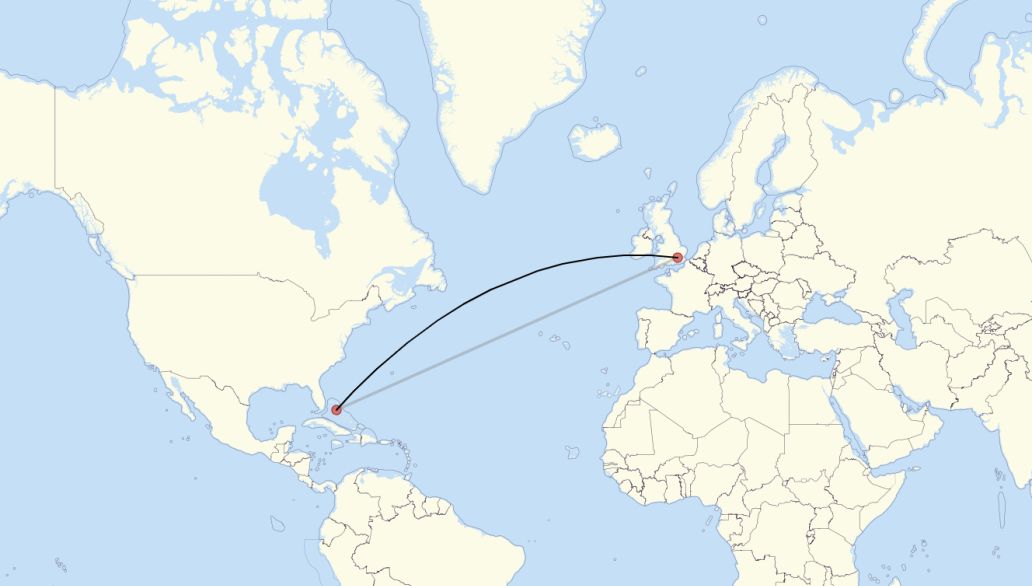 You will need but a single flight to cross from London to Nassau, the tropical city that you've heard about from the Black Sails TV series and one of Assassin's Creed games. It's the capital of The Bahamas, and thus bears such historical buildings like Vendue House, Christ Church Cathedral, and the Nassau Public Library, as well such relics of colonial past as the British Colonial Hilton and the slave-carved Queen's Stairs.
Literally half of the country is employed in the tourism industry, so it's more of an exotic leisure holiday spot than a place to visit many historical monuments. Downtown and Bay Street are good for shopping, the rebuilt Straw Market offers a lot of traditional goods, and Atlantis Paradise Island should be visited simply for bragging rights of having seen some of the largest excesses of resort industry.
Sadly, no flight is immune to the sadly less-than-exotic occurrences of flight disruptions. Delayed flights, flight cancellations and overbooking are all things that can happen, no matter how exotic your destination is. So while you're sulking at the airport lounge instead of lounging at the beach, claim flight compensation! Do so via Skycop and we'll check whether the flight is claimable and carry out the entire process for you. Imagine how many drinks with straws and paper umbrellas you will be able to afford with a compensation of up to €600!
Related articles:
7 Ways To Safely Travel In Exotic Countries
5 Tips For Traveling During Christmas
How to Buy Plane Tickets Online Cheaper
15 Travel Apps For Every Step Of Planning Your Trip