Airports are of extreme importance in our increasingly interconnected world. That's why some of them can get busy, very busy. So let's take a tour of the biggest airports in the world, continent by continent!
What is the biggest airport in Asia?
Beijing Capital International Airport, Beijing, China (1480 ha/5.71 sq mi)
BCIA was opened in 1958. Currently, some of its traffic is being handed over to Beijing Daxing International Airport.
It's not only the biggest airport in Asia, but also the second busiest airport in the whole world.
It's IATA code, PEK, is a hold-over from the time when Beijing was romanized as Peking.
Size: 1480 hectares (5.71 sq mi)
Asia (well, Asia Pacific) accounts for most people carried by airlines worldwide: 35% of all air passengers mill around somewhere in the area. It has the biggest growth prospects, which also comes with the fastest-growing airports and the biggest airplane order backlog.
What is the biggest airport in Africa?
O. R. Tambo International Airport, Johannesburg, South Africa (1673 ha/6.46 sq mi)
O. R. Tambo is the busiest airport in Africa, having handled 21 million passengers in 2017 and with capacity for 28 million.
It was originally named Jan Smuts International Airport, had a name change to Johannesburg International Airport, and eventually ended up being O. R. Tambo.
O.R. Tambo hosts the 33rd longest runway, a necessary measure for loaded planes to take off at this altitude.
Total size: 1673 ha (6.46 sq mi)
Africa currently accounts for 2% of all aviation traffic. However, IATA data foresees a constant growth of about 4.6% for the next 20 years, giving it the second-highest growth rate in the world (after Asia).
What is the biggest airport in Australia?
Sydney (Kingsford Smith) Airport, Sydney, Australia (891 ha/3.44 sq mi)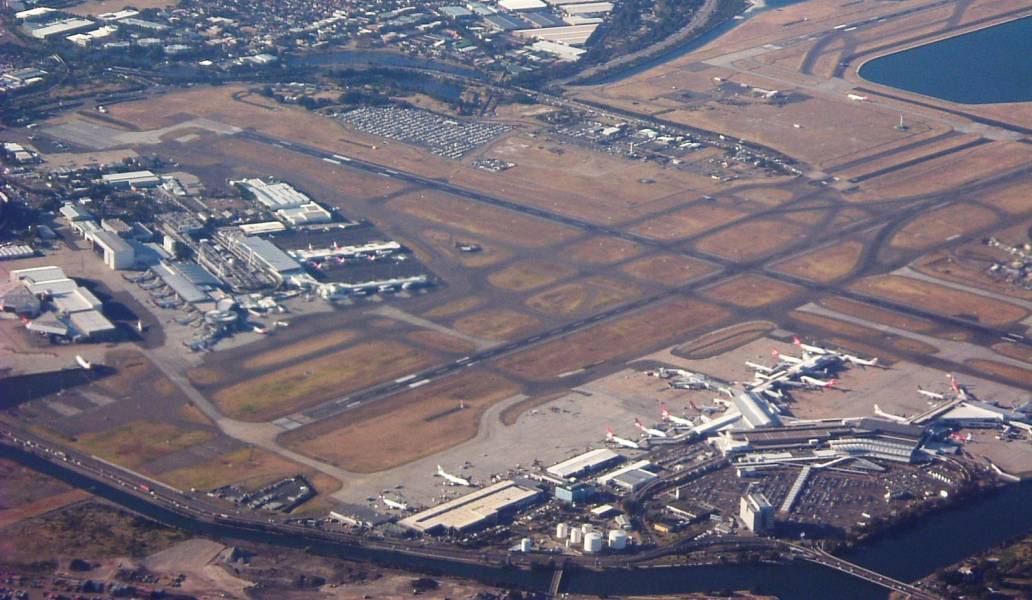 Sydney served 44,443,927 passengers in 2018.
Sydney Airport's Air Traffic Control Tower is listed on the Commonwealth Heritage List (it looks like a flower)
Sydney Airport is one of the world's longest continuously operating commercial airports! It used to be a cattle grazing area before it became an airport.
Size: 891 ha (3.44 sq mi)
Poor little Australia doesn't get to be its own aviation region. But that doesn't mean that its kangaroo-punched, bear-dropped locals don't like to travel! Australian aviation carried 61 million passengers in 2017, with 33 million of them being international.
What is the biggest airport in Antarctica?
Novo Air Base, Novolazarevskaya Station (150 ha/0.58 sq mi)
This is a logistics center operated by Antarctic Logistics Centre International, which serves Russian and Indian bases in the region, and it's the closest to a real airport in Antarctica.
A flight to Cape Town on an Il-76 takes about 5-6 hours.
Operates during the summer months between late October and the beginning of March.
Total size: 150 ha (0.58 sq mi)
Antarctica is an ice-blasted hellhole, populated by scientists, penguins and frozen corpses of arctic explorers just waiting to return and torment the living. So of course, cargo and what not is easiest to bring in air… for a certain definition of "easy." There are no regular international airports in Antarctica, but some of the landing strips come close!
What is the biggest airport in Europe?
Heathrow Airport, London, United Kingdom (1214 ha/4.69 sq mi)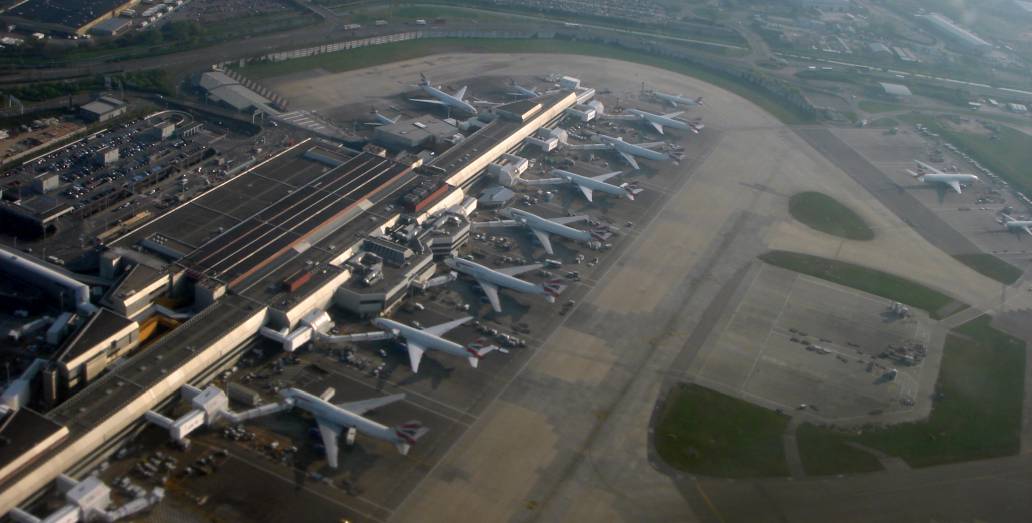 Heathrow started as a small airfield in 1929 before being expanded in 1944 for use of military aircraft heading to the Far East. And now it's the biggest airport in Europe!
Besides being the primary hub for British airways and the base for Virgin Atlantic, Heathrow hosts over 80 airlines who fly to 185 destinations in 84 countries.
Heathrow handled about 80 million passengers and nearly half a million airplane movements in 2018.
Heathrow has two runways, going east-west.
Total size: 1214 ha (4.69 sq mi)
Many of the oldest airports in Europe have their roots in the early military airfields established during the Great War. Today, they handle the 26% of the world's air passengers that travel to, from or within the continent, leading to some of the busiest airports in the world being located in Europe.
What is the biggest airport in North America?
Hartsfield–Jackson Atlanta International Airport, Atlanta, United States (1902 ha/7.34 sq mi)
Going by passenger traffic, Atlanta International Airport is the busiest airport in the world. It has stayed the busiest airport in the world since 1998.
The busiest airport in the world has 192 gates – 152 domestic and 40 international – and five parallel runways
Actually, most of the traffic in Atlanta International airport is domestic: only 12 million of the 107 million passengers that crossed the airport in 2018 were international.
Total size: 1902 ha (7.34 sq mi)
Brothers Wright really helped the US get a head start in the whole aviation game, and many of aviation firsts occurred in the country. Seeing how it's the biggest country in North America, it also hosts its busiest airports.
What is the largest airport in South America?
São Paulo–Guarulhos International Airport, São Paulo, Brazil (1377 ha/5.32 sq mi)
At 24 million passengers served in 2018, Mexico City International Airport is the busiest in Latin America. However, São Paulo–Guarulhos International Airport is the biggest in South America proper, with about 20 million passengers.
It's also home to the São Paulo Air Force Base.
The busiest route in São Paulo heads to Santiago in Chile, the second biggest – to Miami.
Total size: 1377 ha (5.32 sq mi)
Aviation in South America? More possible than you imagine! The new crop of low-cost carriers is driving growth in the region, which is projected to be around 2%. Indigo Partners, a holding company that owns Chilean JetSmart, is second only to Air Asia in the ordered plane backlog.
What is the biggest airport in the world?
King Fahd International Airport, Dammam, Saudi Arabia (78000 hectares/301.16 sq mi)
Technically, the area that King Fahd International Airport takes up is 78000 hectares (301 square miles), making it the largest airport in the world (and bigger than Bahrain).
Finished in 1990, it was used by US Airforce during Operation Desert Storm and only opened for commercial use in 1999.
Of the two runways, one is used by the national oil company Saudi Aramco, while the other is open to regular commercial traffic.
However, no matter which airport you fly to, you may still encounter flight disruptions. Flight delays, cancelled flights and overbooking can strike anywhere (well, maybe not so much in Antarctica). But if your trip to/from/in Europe is ruined by flight disruptions, fear not! Claim flight compensation with Skycop! With up to €600 in compensation on the line, you can hardly afford not to.
Related articles: